Style
The language is sophisticated, and the author uses a lot of words from the domains of navigation, fishing, animals that are not so common; the language is not easily understood by children. Sometimes, when the characters are speaking, the author tries to make the language seem more oral, by adding some kind of "written intonation". For example, in the quotation that follows one can sense the wonder in Rat's voice, when hearing that Mole had never been in a boat:
Quote:
'What?' cried the Rat, open-mouthed: 'Never been in a—you never—
well I—what have you been doing, then?'
Furthermore, some words are written in capitals maybe also to help the reader in feeling the right intonation, or rhythm of the words:
Quote:
'I beg your pardon,' said the Rat slowly, as he chewed a straw, 'but did
I overhear you say something about "WE," and "START," and "THIS
AFTERNOON?"
It is important to read these sequences with the right intonation, because language and the way of speaking, together, say a lot of the characters in the story.
The atmosphere
Even if the style of the book it's a bit too hard for children to understand, they are kept with the book because of the atmosphere; It is a book about adventures of little animals, animals that didn't appear in books usually. I think the book appeals for children especially because of the anthropomorphized animals. A rat that acts like an artist, a proud and rich dandy is not something that children would imagine when seeing one in real life. But, when reading the book it can be a humorous image especially because of the paradox.
The book is appealing for adults as well also because of the atmosphere. It explores the friendship between men, their popular subjects of discussion, interests, fashion, hobbies. The river-bank is like an old club of golf (for ex.) where people meet, discuss, gossip, start new hobbies, see what is popular and what is not. Etc.
The characters
The characters are very well defined and outlined.
The Mole
is a bit naïve, innocent, or maybe inexperienced, being excited with everything that was new to him. He didn't know to hide it very well. It could also be the image of a boy who enters in adulthood and is welcomed around adults in their club. He speaks a good English and wears fashionable clothes, being also a rich chap, but without experience in this new world. He is respectful, and he is given respect from the others as well, all being well-educated.
Quote:
The Mole knew well that it is quite against animal-etiquette to dwell on possible trouble ahead, or even to allude to it; so he dropped the subject.
When Mole got accustomed with this new lifestyle, his language changed as well. He started addressing his friends by :Ratty, Toady, a clear evidence of closeness and playfulness amongst themselves.
Quote:
'Dear Ratty,' said the poor Mole, 'I'm dreadfully sorry, but I'm simply
dead beat and that's a solid fact. You MUST let me rest here a while
longer, and get my strength back, if I'm to get home at all.'
Rat
The Rat considers himself an artist; He is very sociable, but in the same time stubborn; he changes his mood frequently but still remains a good guy; he has a multitude of friends all over the river-bank; he is outgoing and friendly.
All three characters remind me of the dandies, the fashionable boys that did nothing all day just dress nicely, look pretty, go to every party, and have superficial conversations within their group of friends.
Here's a quotation in which Rat admires Mole's clothes in the manner girls do it:
Quote:
'I like your clothes awfully, old chap,' he remarked after some half an
hour or so had passed. 'I'm going to get a black velvet smoking-suit myself
some day, as soon as I can afford it.'
I imagine Rat looking like this:
He doesn't walk on four legs, but resembles a human. He is dressed nicely and looks like a fine lord.
Attachment:
File comment: Illus. 1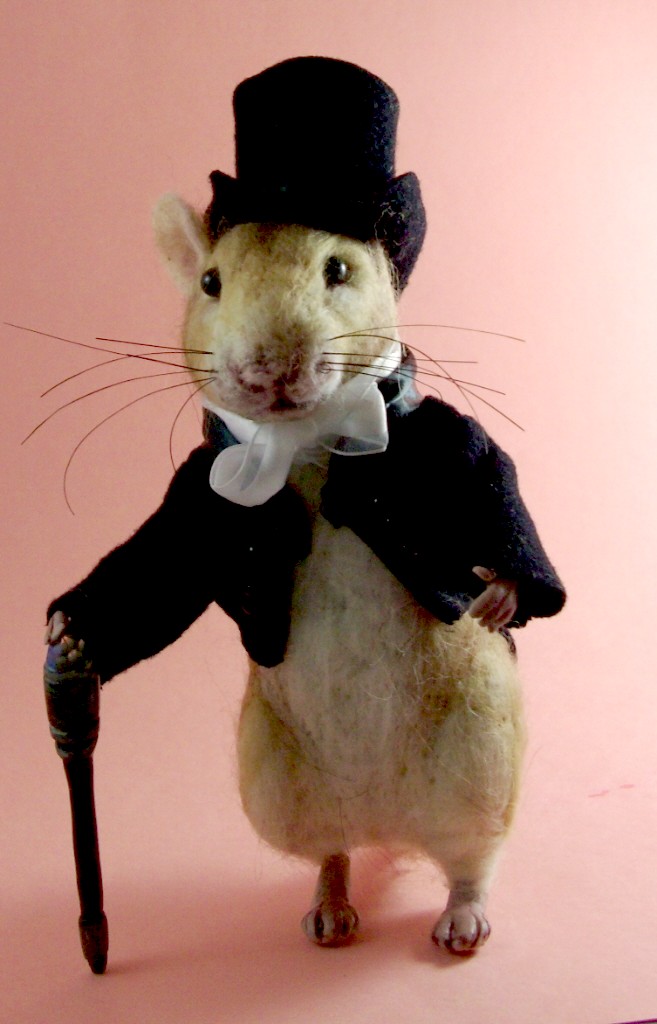 1310933107780.jpg [ 100.66 KiB | Viewed 1730 times ]
Toad
Toad is the chap that has the most money. He can afford the popular/ new "fads" and buys everything that would bring the attention on him, even if it's not suitable for him. The way he talks shows that he is familiar with most of the characters on the shore, and talks with them in a "friendly" manner, like between boys.
Quote:
'Greedy beggars!' he observed, making for the provender. 'Why didn't
you invite me, Ratty?'
This is Toad:
Attachment:
File comment: Illus. 2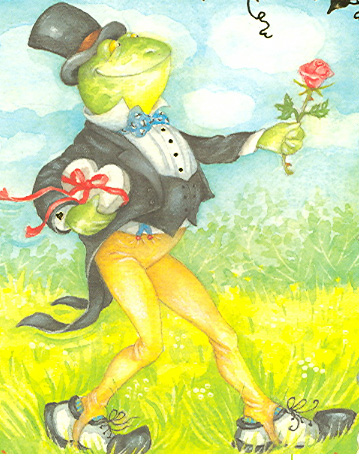 King_Kong_Kitchie.jpg [ 131.23 KiB | Viewed 1730 times ]
Attachment:
File comment: Illus. 3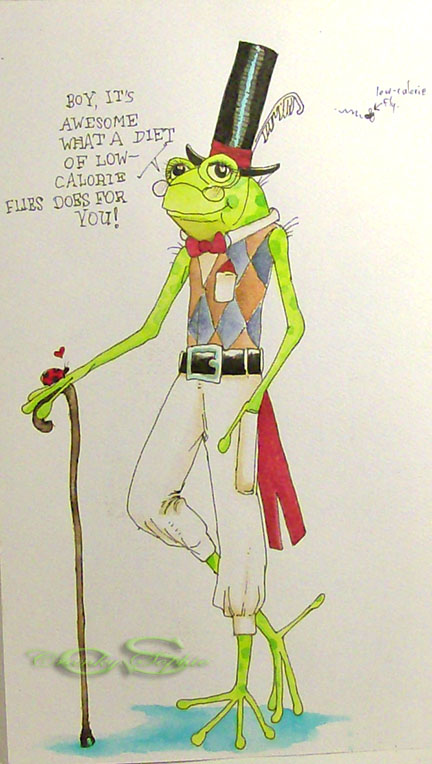 skinny-frog-bl.jpg [ 88.47 KiB | Viewed 1730 times ]
The fact that the author chose only male characters is not a sexist act. He wanted to portray the atmosphere of a boy's club, or gentlemen's club, that wouldn't be the same in the presence of a woman. Even today, boys and girls talk and act differently according to the persons they are with. Surrounded by girls, a girl will gossip, will talk about fashion and unimportant subject, while boys will discuss about sports and girls.
List of illustrations